On Site Services
Your Needs, Your Schedule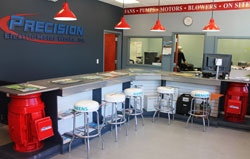 Our experienced staff will troubleshoot and repair your electric motor problems and provide you with 24 hour emergency repair service and sales.
Service When You Need It
If electric motor or generator failures are causing unplanned downtime for your operations, Precision Electric Motor Works, Inc. can help. Our PrecisionGuard© System can reduce failures substantially and improve motor and generator service life. What's more, PrecisionGuard© provides superior durability so that your equipment can continue to perform even in the harshest environments.